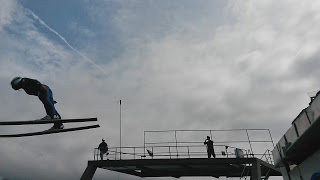 2013 Week 32 Thursday: Ski-jump and hydropower
2013 Week 32 Thursday: Ski-jump and hydropower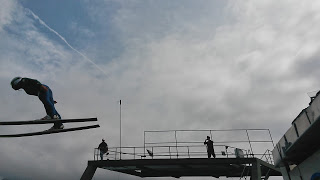 Mid-jump (totally looks like I instagrammed this photo,
but it really is the original – crazyness)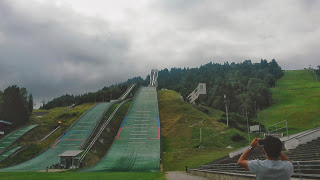 We started our day by checking out from our hotel in Garmisch-Partenkirchen. From there our bus headed for the local ski-jump stadium where people from all over the world can buy time for practicing their jumping.  Here is one of the places where the "january 1st" ski-jumping takes place (I believe it is 3 maybe 4 places they film from). It was amazing watching them jumping, and it takes far more efford than I would have imagined to jump as far as possible. And even though it was summer they still jumped. The jump was covered with a special plastic grass that was constantly sprayed with water to keep the hill slippery for the skiers when they landed. We had a very awesome guide talking us through the place. You could really feel he had a passion for ski-jumping – which made sense since he was a former ski-jumper himself. The view was amazing from the top – and as a civil engineer I had to admire the structure, where the entire tower was carried by two "legs" going into a foundation in the ground – totally insane amount of calculation that was needed to make that work.

View from the ski-jump
On our way to our next destination we stopped for a break at a lake to swim, relax and whatever. The lake was incredibly beautiful, and the weather was great as well. I didn't have my swimming gear close at hand, but I put my feet into the lake, and found out it was crazy cold!. Molly and Javier got in the water – sadly one of our German students (Anne), who also was one of the people helping us international students getting around, somehow injured her knee so she had to be picked up by an ambulance and Saskia went with her – so the mood was not at the best at this point, but we still managed to relax and enjoy the view for a while, even though our "mother" (which we lovingly called her) wasn't there and probably would not join us the rest of the trip.

Amazing lake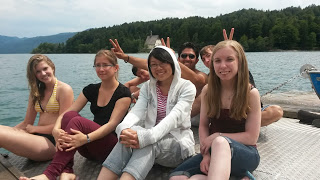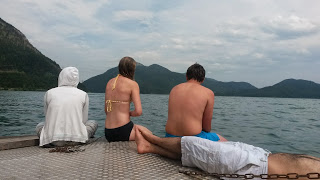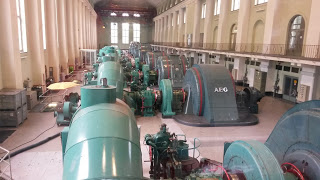 After our break we continued towards a hydro power plant that took advantage of the natural flow of the rivers from the mountains, so no damming or destroying nature in any way. The turbines had the posibility of producing flexible power if they kept making a little bit of power (so they didn't have to start from standing still, which would make the start-up time several minutes) so they could produce full power within a minute. The turbines was crazy big, I had no idea that they where this large. This plant had turbines from 3, or so, different producers, AEG, Bosch and another I can't remember.