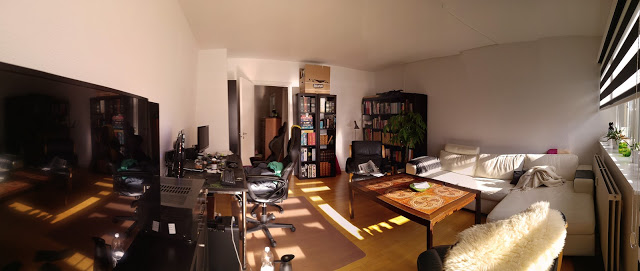 Getting settled in
Getting settled in
Finally the boxes are all unpacked or taken to the basement! We are as close to being settled in as possible right now. There is a single box left, but it is full of pictures that needs to be hanged on the walls – so we just need to figure out where they should go.
We still need to buy some furniture, like a desk for my makeup, a cabinet for the bathroom, a smaller cofee table etc. But that will be fixed over the next couple of months, when we have money for it.
In the living room we have the standard couch and tv, but we also placed our desk in here, since we spend most of our time on the computer. It is facing west, so we have sun in the evening, which can sometimes get a bit hot, but thankfully we have a french balcony which we can open and get some fresh air.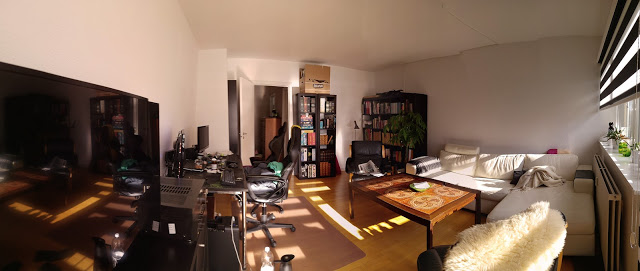 Living room, with a box of pictures on top of the bookcase
The dining room is also where we have our wardrobe, a sofabed for guests and my makeup, which means I spend more time in here than Kim does 🙂 . We also dry our clothes in here, as you can see. We also need to hang some lamps which are laying about in the window. This room faces east, so I have great, natural lighting when I do my makeup.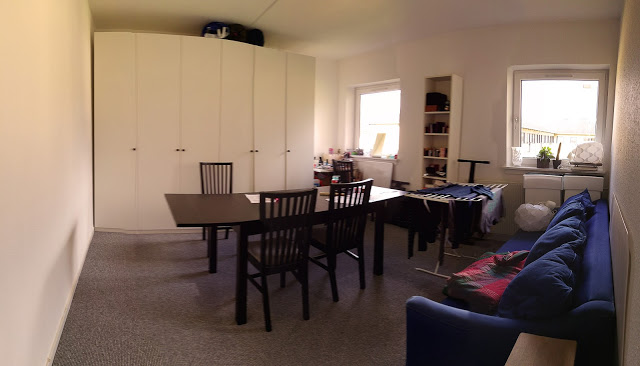 Dining room
We put our bed into the smallest room, that way it wouldn't take up too much space. So our bedroom is just our bed and a small bookcase for random stuff. We got a bigger bed from my parents, but we still need to buy a mattress to put on top, so for the moment we have our old, smaller mattress on top, which works for now.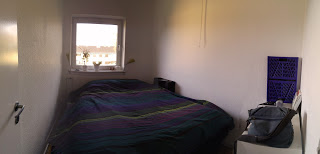 Bedroom
I'm really pleased with the way we live now. It's fairly easy to keep tidy, since we have more space for our stuff. We will probably install a carpet in the living room at a later time, since it improves the feel of the room quite a bit.
See you next time 🙂