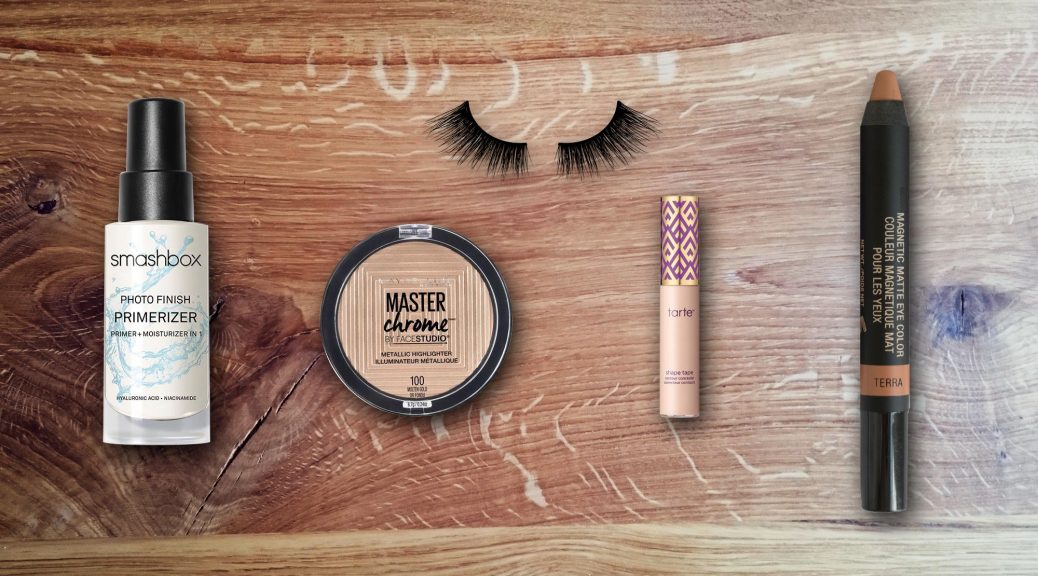 Daewyn's Desires vol. 2
Daewyn's Desires vol. 2
This is the post where I drool over makeup and other things (but mostly makeup) that I've seen online and would love to add to my collection.
Last month I discovered the amazing makeup artist Melissa Alatorre through Smith Cosmetics' Instagram. Smith Cosmetics re-grammed a picture of Melissa where she wore a winged liner in a different way, and I saw that her eye shape is kind of similar to mine (I'm always looking for more ideas for my eye shape since I don't have the standard almond shaped eyes that are super easy to do liners etc on). But anyways. I watched the tutorial for the winged liner, and then I was hooked! So I have been binging her videos since then – all the products I'm lusting after this month is something she has recommended or talked about in her videos.
When it comes to false lashes, I'm mostly a "no falsies" type of girl, but if I want to boost my lashes I'll wear corner lashes – I find full strip lashes too much of a hassle to apply and they don't feel comfortable. So when Melissa talked about her favourite lashes called Extra Oomph from Velour Lashes, I was in love – they look so natural but still adds enough to really give some punch to the lashes. I only have a single pair of corner lashes at the moment, and they're looking pretty raggedy (I've had them since I got married in 2015) so these lashes would be such a great addition for when I want to play and look a bit more fancy.
I'm all for easy eye looks, so the Nudestix Magnetic Matte Eye Color Pencils look so amazing – I really want the 3 colors Melissa recommended, which are Terra, Fig, and Taupe. I have seen multiple youtubers use them in their looks, and they just look so easy to work with, and blend, and everything. I really love the idea that Nudestix have with making makeup easy and simple. There are so many things I would love to have from them, but my first pick would be the eye color pencil for sure.
Now, Melissa have been obsessed with a highlighter from Maybelline called Facestudio Master Chrome Metallic Highlighter, and it just looks so amazing – no chunkyness, no streaking, and it's really cheap too. So it's a great product for the price, but I even think it could be sold in a higher end brand because it just looks so stunning. And I'm in a highlighter lusty fase – I'm starting to really love highlighting, but feel like my collection is seriously lacking in that department.
The concealer Melissa usually uses for concealing and brightening is the Tarte Shape Tape – I have heard so many great things about this concealer and I really want to try it out. Though I'd have to swatch it on my skin since it has very high coverage and that means it has to match pretty much perfect. But I think I'm in the light range – the fair looks way too white in the pictures I can find online.
Last but not least is a primer. I have for a very long time focused on mattifying primers to help control my oily T-zone, but I'm coming to the realization that a primer ain't gonna help that. Now I'm looking into more moisturizing primers – like the one Melissa have been using, the Smashbox Photo Finish Primerizer, looks like a great primer to help moisturize the skin throughout the day and help the makeup not look dry and cakey.
These are the things I discovered this month – have you seen anything new you really crave? I would love to get inspiration for future desires.
So the last couple of weeks have been really hectic here, with my husband finishing his thesis and needing my help, and Blizzcon monopolizing most of my time last weekend, I haven't been able to keep up with my blog at all. But this week is all about catching up – I have 2 videos filmed that just need editing before being published, and I have the basic idea for my Friday blog post, so now I just need to work work work.
(Product pictures are taken from the company's websites)